KAMPALA – The Central Bank has granted license to two new commercial banks, a move that has seen Uganda's banking sector grow to 26 banks at the moment.
Taking to their official twitter handle, Bank of Uganda released a statement signed by the Governor, Emmanuel Mutebile announcing the new members on board and included the dates when the two institutions started trading as commercial banks.
Mutebile said, "Bank of Uganda informs the public that it has issued commercial banking licenses to two financial institutions bringing the total number of commercial banks in Uganda to 26."
The statement further read, "BoU granted the commercial banking class 1 license certificates to Afriland First Bank Uganda Limited effective September 12, 2019, and Opportunity Bank Uganda Limited effective September 13, 2019. Opportunity Bank has previously been trading as a financial institution tier 2 and now has transformed into a commercial bank tier 1."
In their December 2017 financial performance, Opportunity bank announced its assets had grown to UGX93bn with profits after tax having grown by 60% to UGX2.2bn and the Bank held customer deposits of UGX43bn.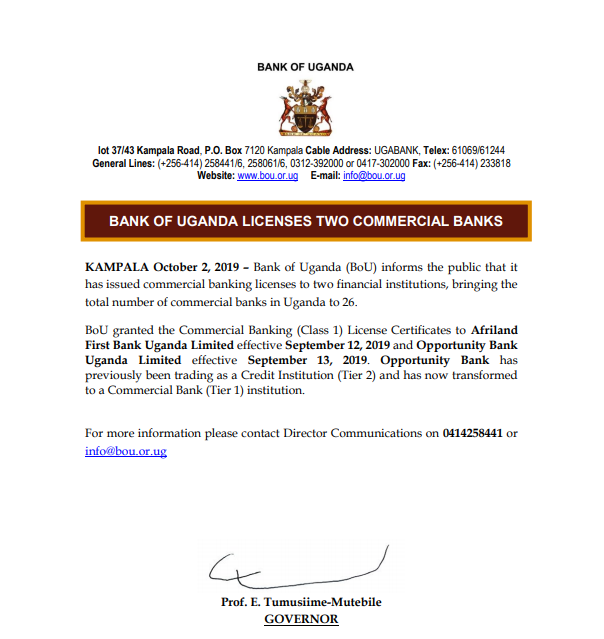 Opportunity bank started in 1995 as Faulu Uganda owned by Food for the Hungry International (FHI) and in 2006, the Bank acquired by Opportunity Transformation Investment Inc (OTI), a US-based microfinance investment vehicle, which owned 92 per cent of the Opportunity bank by the end of 2015.
But in 2016, Mybuck, a Luxembourg-based financial and technology (Fintech) firm, bought 49 per cent stake in the institution as it thought to expand its African presence.
The development comes at a time when the central Bank has been under public scrutiny and parliamentary investigation on how it handled the closure of seven defunct banks with questions swirling on the team at Bank of Uganda's capability to run Uganda's financial sector.
Leave a comment